Shop
Please send your orders to mail@fruechtedeszorns.net. We'll contact you to let you know about shipping fees. To give you an idea... in Germany, one or two CDs ship for about 1.45¤, more CDs or a shirt ship for 2.60¤, and an LP for 1.65¤. If the order is for another European country, shipping will rise to 3.70¤ – that's for up to four CDs.
We donate all profits.
Albums
You can download all songs from the albums below for free if you click here: music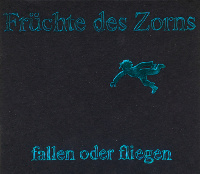 fallen oder fliegen (CD & Vinyl, 2016)
CD 10 Euro
Vinyl 12 Euro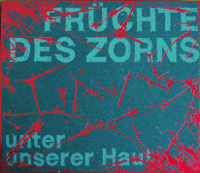 Unter unserer Haut – Underneath Our Skin (CD & vinyl, 2010)
Vinyl (double 10inch album) sold out! CD 10 Euro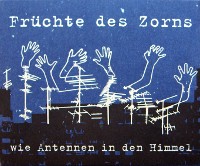 Wie Antennen in den Himmel – Like Antennae To Heaven (CD, 2007)
10 Euro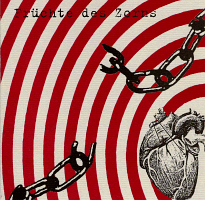 Das Herz ist ein Muskel in der Größe einer Faust (vinyl 7", 2005)
Sold out!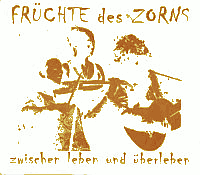 Zwischen Leben und Überleben – Between Life and Survival (CD, 2003)
Sold out!